Category Archives:
What's New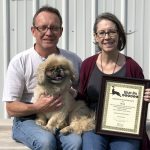 I dropped my dog Beau off for some much needed obedience training at Wuff Da Kennels. I was a bit apprehensive as he was still recovering from an accident AND I'd never boarded him his 4 1/2 years with me. After talking with Pia and her staff I drove out that day feeling relieved and assured Beau was in good hands. Pia is a wonderful person and an animal lover which is obvious when you visit with her. Beau has become more comfortable and listens to us now (he's a stubborn Pekingese). I'm so happy with her I've since boarded Beau with her and continue to do so in the future! Thanks Wuff Da Kennel and Pia,
Jeffry Boe, Frazee, MN
We brought Sully (our Golden Retriever puppy) to Wuff-Da Kennel when he was 12 weeks old. Here, he spent a month with Pia learning basic obedience & commands. Pia did a great job training with Sully and we always felt he was getting excellent care. About once per week, we would come to Wuff-Da and train with Sully – it was so fun to see how fast he was learning. Sully, now 6 months old, has continued to learn new commands very easily and it is because of the strong foundation he gained at Wuff-Da Kennel. We would highly recommend Wuff-Da Kennel to any new puppy owner – it was a great investment that we made. Pia truly cares about each dog that comes to her kennel. She's always available to answer any questions or help with any problems that arise. We are very grateful for all the work she's done in shaping Sully into the great companion he is for our family.
Betsy & Brock, East Grand Forks, MN