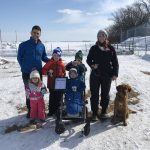 We sent our golden retriever, Chase, to train with Pia when he was 7 months old. He was a high energy puppy with zero manners and was starting to develop some behavior that we knew needed to be stopped. However, we had no idea how to address these behaviors on our own.
Chase spent roughly 3 months training with Pia, and it was the best decision that we could have made. She molded him into a well-mannered puppy who can now obey commands. She not only trained him beautifully, but she also trained us on how to interact with him. She taught us what it meant to be the pack leader and how to maintain that role.
When it was time to take Chase home, she sent us off with some tips and tricks to help with reentry into our home and life. She's always been willing to answer questions and is an invaluable resource. It is clear that she is passionate about what she does. No one can achieve the success that she does without a love for these dogs. We highly recommend Wuffda Kennel, and we can't thank Pia enough!!
Melissa & Kyle Gagner